Aleafia Health Launches Symbl Atmosphere Oral Cannabis Spray for Adult-use Market
Company Expects to Ship First Product Order to BC Cannabis Store Today
Product Reinforces Health & Wellness Adult-use Product Strategy
Company Adding 50,000 kg Extraction Capacity to Meet Product Demand
TORONTO, ON, April 18, 2019 – Aleafia Health Inc. (TSX: ALEF, OTC: ALEAF, FRA: ARAH) ("Aleafia Health" or the "Company"), today announced the launch of Symbl Atmosphere, the Company's first adult-use oral metered-dose cannabis spray. The first order of Symbl Atmosphere has been placed by the BC Liquor Distribution, the sole adult-use cannabis wholesale distributor and operator of public retail stores in Canada's third largest province. The Company expects to ship the initial order today.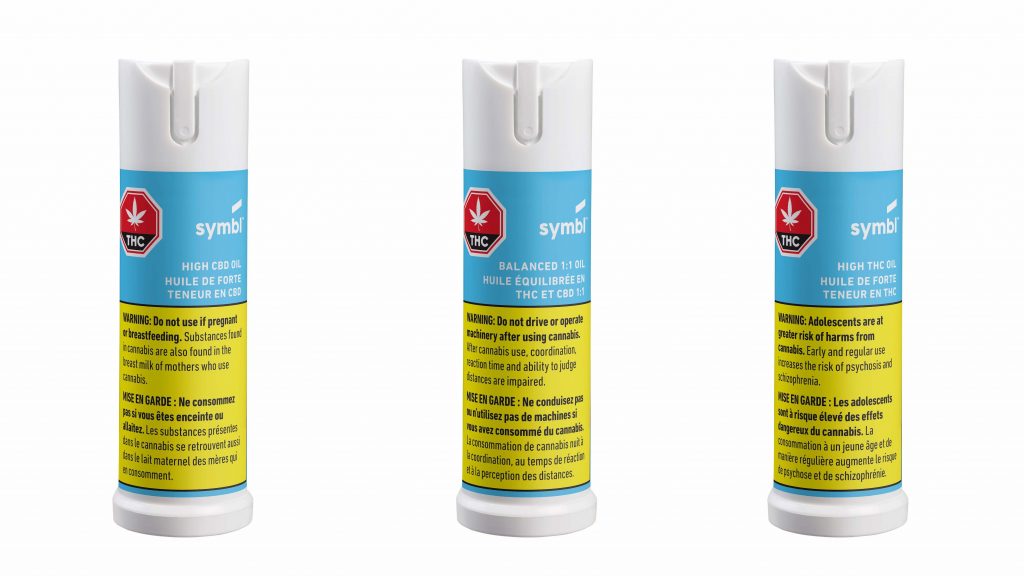 The launch reinforces the Company's health & wellness adult-use product strategy. Building on its diverse portfolio of medical cannabis products, Aleafia Health will also deliver innovative, products for health & wellness conscious consumers preferring to purchase in the adult-use market. Symbl Atmosphere ensures a precise dose with each spray in a convenient delivery system and is available in three distinct formulations.
50,000 KG EXTRACTION CAPACITY EXPANSION SUPPORTING PRODUCT DEMAND
Symbl Atmosphere is produced in-house at the Company's Paris, Ont. processing facility, which is currently undergoing a Phase II expansion adding an additional 50,000 kg in annual extraction capacity. This will ensure adequate extraction for cannabis sourced from Aleafia Campus indoor, greenhouse and outdoor cultivation operations along with cannabis secured via existing wholesale supply agreements, which include:
Aleafia Campus Indoor cultivation at its licensed and operational Paris and Port Perry, Ont. facilities
Aleafia Campus Greenhouse cultivation at its plant-ready 160,000 sq. ft. Niagara Region facility (upon receipt of Health Canada licence)
Aleafia Campus Outdoor cultivation at its Port Perry 26-acre low-cost outdoor grow (upon receipt of Health Canada licence)
Aphria Supply: Five-year, 175,000 kg supply agreement with Aphria Inc. at preferred wholesale pricing, with the first shipment expected in mid-2019
Tilray Supply: Three-year, 9,000 kg supply agreement with Natura Naturals Holdings Inc., a wholly owned subsidiary of Tilray Inc.
"The Symbl Atmosphere brand and format extension for the adult-use consumer reinforces Aleafia Health's commitment to delivering unique products to health & wellness conscious consumers, whether they are medical patients or purchasing OTC," said Aleafia Health CEO Geoffrey Benic. "Precise oral spray dosing allows easy usage tracking and adjustments and has proven popular with our registered medical cannabis patient base."
For Investor and Media Relations, please contact:
Nicholas Bergamini, VP, Public Affairs
416-860-5665
LEARN MORE: www.AleafiaHealth.com
About Aleafia Health:
Aleafia Health is a leading, vertically integrated cannabis health and wellness company with four primary business units: Cannabis Cultivation & Products, Health & Wellness Clinics, Cannabis Education, and Consumer Experience with ecommerce, retail distribution and provincial supply agreements.
Aleafia Health owns three major cannabis product & cultivation, two of which are licensed and operational. The Company produces a diverse portfolio of commercially proven, high-margin derivative products including oils, capsules and sprays. Aleafia Health operates the largest national network of medical cannabis clinics and education centres staffed by MDs, nurse practitioners and educators.
Aleafia Health maintains a medical cannabis dataset with over 10 million data points to inform proprietary illness specific product development and treatment best practices. The Company is committed to creating sustainable shareholder value and has been named the 2019 top performing company of the year by the TSX Venture Exchange.
Forward Looking Information
This press release contains forward-looking statements and information within the meaning of applicable Canada and United States securities laws that are based on the beliefs of management and reflect the Company's current expectations. When used in this press release, the words "estimate", "project", "belief", "anticipate", "intend", "expect", "plan", "predict", "may" or "should" and the negative of these words or such variations thereon or comparable terminology are intended to identify forward-looking statements and information.
The forward-looking statements and information in this press release includes information relating to the anticipated fulfillment and shipment of Atmosphere to the BC Liquor Distribution Branch, the adoption of Atmosphere by the Adult-Use Market, the pricing of Symbl Atmosphere, the addition of 50,000 kg Extraction capacity, the term, quantity of supply and fulfillment and shipment under the supply agreements.
By their nature, forward-looking statements involve known and unknown risks, uncertainties and other factors which may cause our actual results, performance or achievements, or other future events, to be materially different from any future results, performance or achievements expressed or implied by such forward-looking statements. Forward-looking statements are made based on management's beliefs, estimates and opinions on the date that statements are made, and the Company undertakes no obligation to update forward-looking statements if these beliefs, estimates and opinions or other circumstances should change. Investors are cautioned against attributing undue certainty to forward-looking statements.