Aleafia Health Named Top Performing Company of the Year for TSX Venture 50
Aleafia Health Ranks First Based on Key Market Performance Measures Among all TSXV Listed Companies
First Time a Cannabis Company has Achieved Top Performing Company Honours
TORONTO, February 21, 2019 – Aleafia Health Inc. (TSXV: ALEF, OTC: ALEAF, FRA: ARAH) ("Aleafia Health" or the "Company"), has been named the TMX Group's 2019 TSX Venture 50 top performing company of the year amongst all 2,000 TSX Venture Exchange listed companies. The award was based on three equally weighted criteria, market capitalization growth, share price appreciated and trading volume.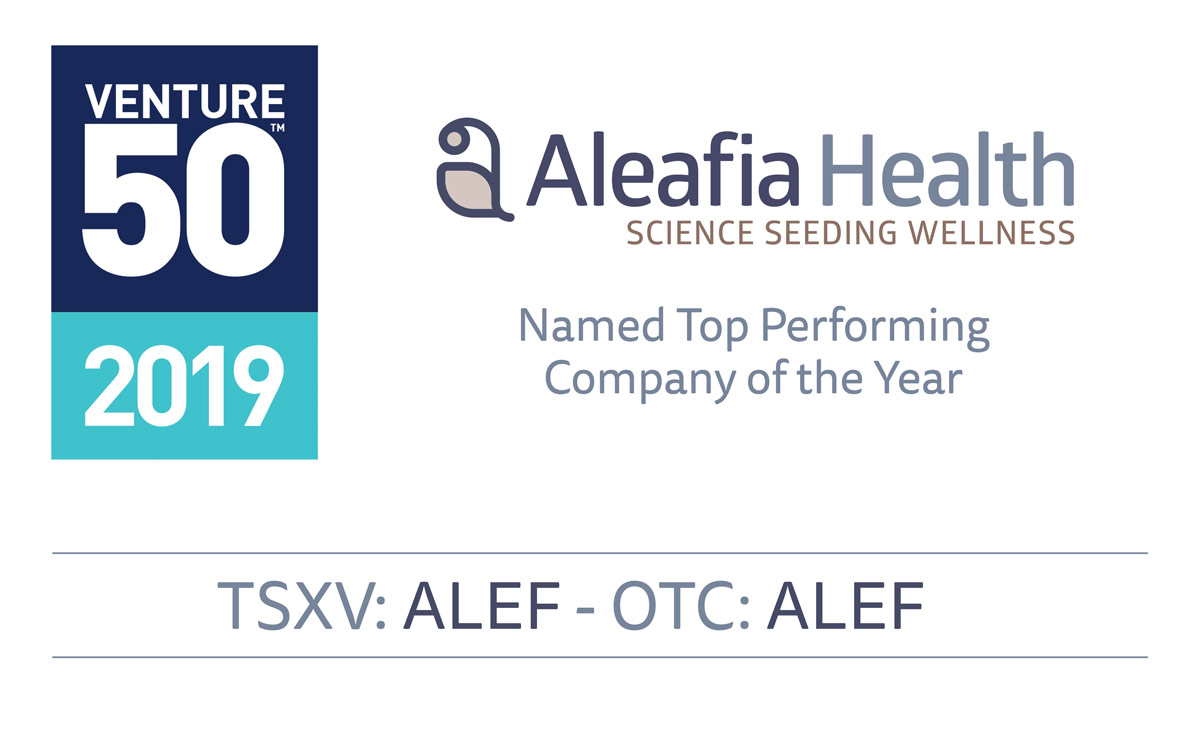 "Aleafia Health's selection as the TSX Venture 50's top performing company is a strong validator of our executional capabilities and relentless focus on providing quality medical cannabis care to our over 50,000 patients," said Aleafia Health Chairman Julian Fantino. "I thank our staff, physicians, patients and shareholders for their support and role in this significant achievement."
"Building on a strong foundation, Aleafia Health has had a landmark year," said Aleafia Health CEO Geoff Benic. "In that time, we have purchased and brought our modern, automated greenhouse to a grow-ready state, launched our recreational retail and brands divisions with the Serruya Family and built a base of over 50,000 medical patients."
"However, we are not content to celebrate past achievements," Benic added. "The pending acquisition of Emblem positions Aleafia Health as a global cannabis health and wellness leader with national and global distribution in the medical and recreational sectors. As we integrate Emblem in the coming months, we will launch industry first, globally scalable cannabis education and e-commerce platforms, while expanding our recreational sector product and retail footprint. The best is yet to come."
LEARN MORE: www.AleafiaHealth.com
For Investor & Media Relations, please contact:
Nicholas Bergamini, VP, Public Affairs
416-860-5665
IR@AleafiaInc.com
About Aleafia Health:
Aleafia Heath, a vertically integrated, national cannabis company, operates major medical clinic, cannabis cultivation and R&D divisions. A federally licensed producer and vendor of cannabis, the company has a planned and fully-funded annual production capacity of 98,000 kg of dried cannabis flower.
The Company operates medical cannabis clinics staffed by physicians and nurse practitioners, with over 50,000 patients. The company is highly differentiated, maintaining the largest medical cannabis dataset in the world, which it used to develop unique, proprietary cannabis products and treatment methods.
Aleafia Health is committed to creating sustainable shareholder value and has been named the top performing company of the year by the TSX Venture Exchange.
Neither the TSX Venture Exchange nor its Regulation Services Provider (as that term is defined in the policies of the Exchange) accepts responsibility for the adequacy or accuracy of this release.
FORWARD LOOKING INFORMATION 
This press release contains forward-looking statements and information that are based on the beliefs of management and reflect the Company's current expectations. When used in this press release, the words "estimate", "project", "belief", "anticipate", "intend", "expect", "plan", "predict", "may" or "should" and the negative of these words or such variations thereon or comparable terminology are intended to identify forward-looking statements and information.
The forward-looking statements and information in this press release includes information relating to the implementation of Aleafia Health's business plan. Such statements and information reflect the current view of the Company with respect to risks and uncertainties that may cause actual results to differ materially from those contemplated in those forward-looking statements and information.
By their nature, forward-looking statements involve known and unknown risks, uncertainties and other factors which may cause our actual results, performance or achievements, or other future events, to be materially different from any future results, performance or achievements expressed or implied by such forward-looking statements. Such factors include, among others, the following risks: risks associated with the implementation of Aleafia Health's business plan and matters relating thereto, risks associated with the cannabis industry, competition, regulatory change, the need for additional financing, reliance on key personnel, the potential for conflicts of interest among certain officers or directors, and the volatility of the Company's common share price and volume. Forward-looking statements are made based on management's beliefs, estimates and opinions on the date that statements are made, and the Company undertakes no obligation to update forward-looking statements if these beliefs, estimates and opinions or other circumstances should change. Investors are cautioned against attributing undue certainty to forward-looking statements.